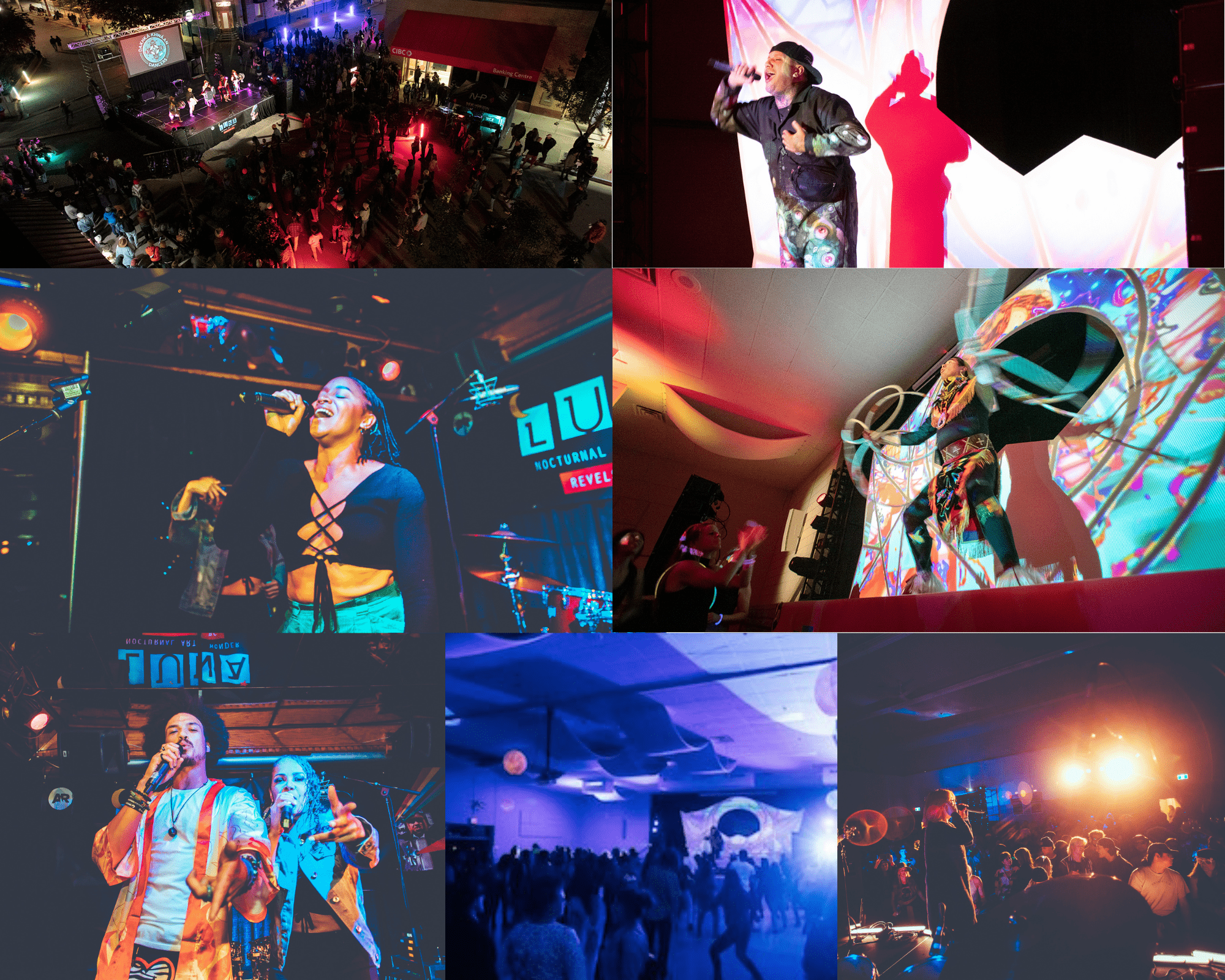 September is fast approaching, which means it's time to start getting ready for this year's LUNA Fest! 
Since 2019, LUNA Sound has been captivating audiences with its fusion of diverse musical genres and immersive performances. The musical journey continues this year with ten exceptional artists set to grace the stages of four iconic LUNA venues: the Selkirk room at the Regent Hotel, the Catholic Church, the United Church, and the Roxy Theatre.
Experience the electric atmosphere as LUNA Sound showcases spectacular Canadian talent, from hip-hop to jazz, rock to reggae, and everything in between. This year, LUNA Sound is hosting ten different musical artists at four venues across downtown Revelstoke on the night of September 22nd. With such an array of musical styles, there's something for everyone to groove to, making LUNA Sound a night you won't want to miss. 
LUNA Sound tickets are now available on the LUNA Fest website!
LUNA Sound: 2023 Line-up
Selkirk Room:  Leno TK, Gold Mynd, LUM
United Church: Scarred Soul Empire, Leather Apron Revival
Roxy Theatre: Gisela Romero, Ricky Diamond and The Rhinestones
Catholic Church: Vissia, Stubbs and The, Blonde Diamond
Ticket Information
Presale Announcement: Secure your LUNA Sound dance spot by taking advantage of the early-bird presale rate:
Early Bird (Aug 8-18): $50
Regular (Aug 18 – Sept 22): $60
Tickets can be purchased online starting August 8th at artsrevelstoke.com/lunafest/luna-sound/. There are only 900 tickets up for grabs, so don't sleep on grabbing yours.
About LUNA Fest:
LUNA Fest is an annual celebration of arts and culture held in downtown Revelstoke. Since 2017, LUNA Fest has quickly become a cherished tradition, uniting artists, performers, and the local community in a nocturnal spectacle of wonder, creativity, and musical talent. With diverse programming and family-friendly events, LUNA Fest aims to inspire and showcase the vibrant and artistic spirit of Revelstoke.
Check out the LUNA Fest website, @lunaartsfest Instagram page, or Luna Fest Facebook page for a sneak peek of each artist and all the updates and details on this year's LUNA Fest!