Hey LUNAtics! We're thrilled to introduce you to an absolute game-changer for this year's festival – the Woov app. Get ready to take your festival experience to new heights with this digital companion designed to make your LUNA Fest journey unforgettable, all while embracing sustainability.
Why Woov? Because It's All About Connection
At Arts Revelstoke's LUNA Fest, we believe that connection is at the heart of the festival experience. And Woov brings that belief to life in exciting ways. Here are some of our favourite features that you won't want to miss:
1. Interactive Map: Lost in the LUNA Fest frenzy? The Woov app has you covered. Its interactive map helps you navigate the festival like a pro. Find your favourite stages, artists, and essential spots effortlessly. No more wandering aimlessly; you're on the right track to all the action.
2. Stay Connected with Friends: One of the best things about festivals is sharing the experience with your friends. Woov takes that to the next level. Connect with your festival squad before the event, and during the festival, see their live locations on the map. No more "Where are you?" texts – you'll always know where your friends are.
3. Connect with the Festival Community: LUNA Fest is more than just music and art; it's about creating a community of like-minded individuals. Woov's app-wide messaging system lets you stay updated with real-time event notifications and join conversations on topic threads. Share your excitement, ask questions, and connect with fellow festival-goers.
Cutting Down on Waste with Woov
We're not just excited about the festival experience; we're also passionate about our planet. This year, we're taking a significant step towards sustainability by reducing our environmental footprint. In the past, we printed brochures and large core-plast signs with artist bios and installation descriptions. However, in 2023, we're making a change:
Less Printed Materials: We've printed fewer brochures, thanks to Woov. With all the festival information available on the app, there's less need for physical copies. It's our way of reducing paper waste.
No Large Plastic Signs: We've eliminated the large plastic signs with artist bios and installation descriptions altogether. Instead, you can find all the details you need on Woov, right at your fingertips. This decision aligns with our commitment to minimizing single-use plastic waste.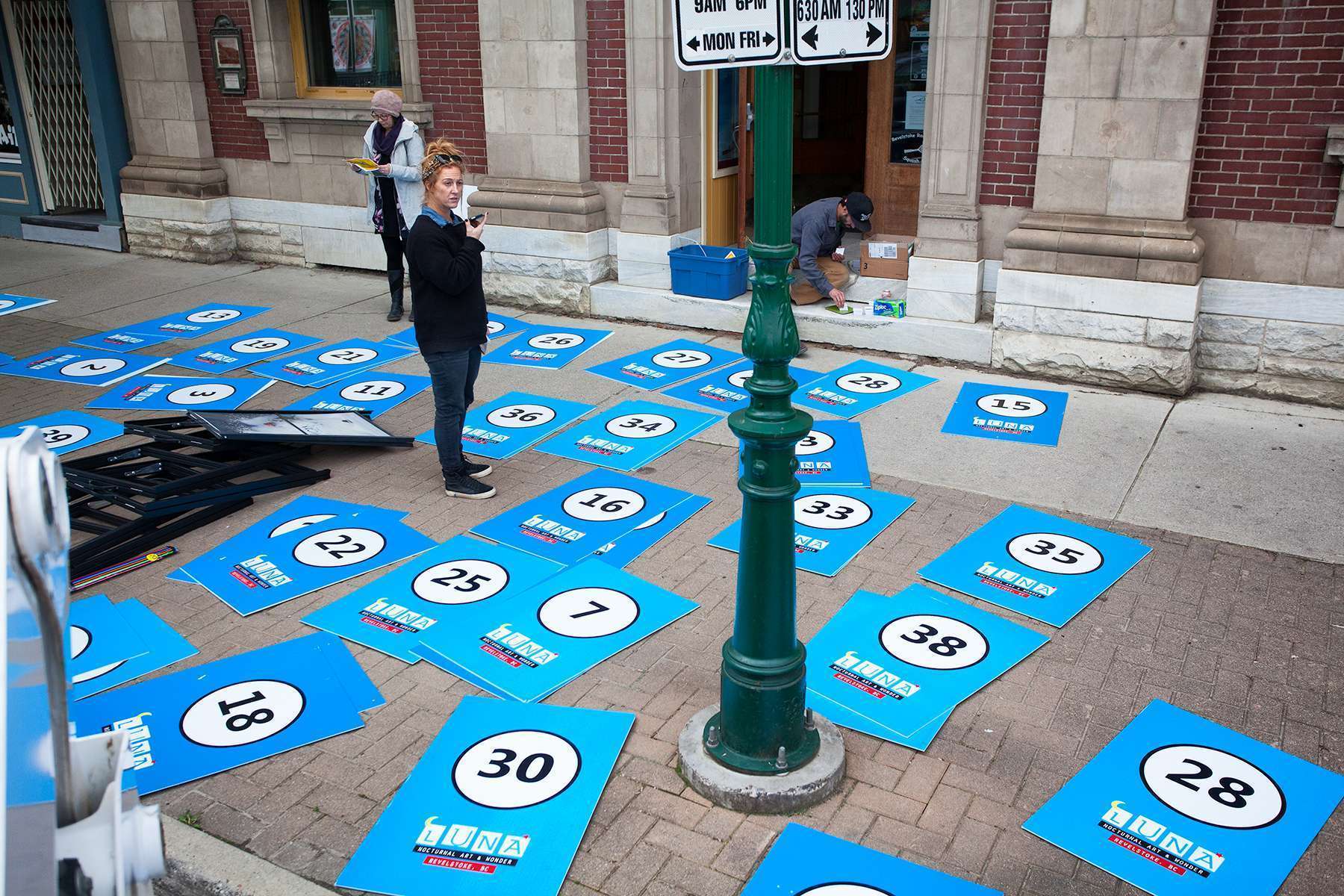 Craft Your Perfect LUNA Fest Itinerary
LUNA Fest is packed with incredible performances, art installations, and activities. Woov's personalized event scheduler lets you plan your festival adventure with ease. Browse artist lineups, check out event schedules, and build your own timetable. With Woov, you won't miss a beat of the action.
Woov isn't just an app; it's your backstage pass to LUNA Fest. With all the festival essentials in the palm of your hand, you're ready for front-row access, VIP-style. So, download Woov now, and get ready to dance, connect, and celebrate.
Ready to Dive In? Here's How:
1. Download the Woov app from your app store or click here
2. Sign up and create your festival profile.
3. Connect with friends attending LUNA Fest.
4. Explore the interactive map and create your festival plan.
5. Join event discussions, share updates, and stay in the loop.
LUNA Fest 2023 is just around the corner, and Woov is your key to unlocking an epic festival adventure while reducing waste. See you under the LUNA-lit sky!